SECUNDERABAD: Consumers across the twin cities have expressed disappointment over the rising fuel prices. With the pandemic and the ensuing lockdown resulting in a decline in salaries, many have called for the Centre to cap fuel prices. "The everyday price rise ranges between Rs 0.4 to Rs 0.6 but we have no other option. Companies are minting money by collecting excess tax on every litre," said RK Janardhan, a resident of Ameerpet.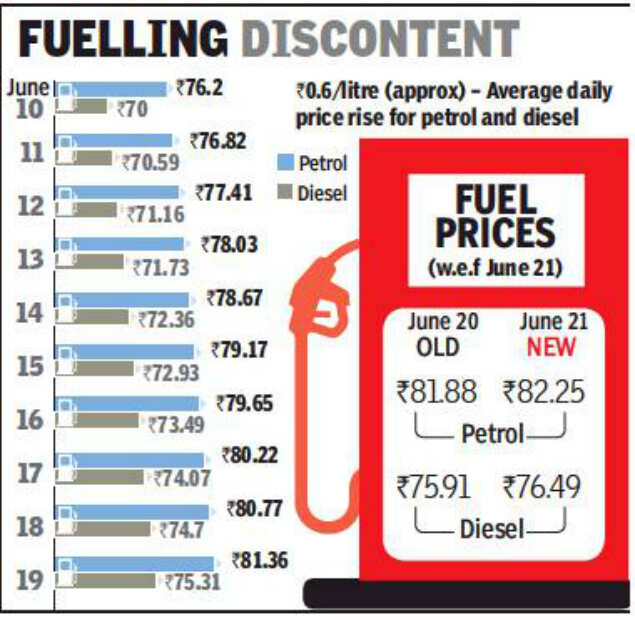 Throughout the various phases of lockdown up until the first week of June, fuel prices had remained unchanged. However, since the lockdown curbs have been relaxed, prices have seen a steady rise. The price rise has also been attributed to a rise in prices of crude oil in the international market.
"Daily fuel consumption is barely touching 40% (of what it was before lockdown). The main reason is the decline in use of transportation as employees have mainly been working from home due to the rise in coronavirus cases," Greater Hyderabad Petrol Diesel Dealers Association former general secretary, TC Goel told STOI.
Cong & CPI protest hike
Congress and CPI on Saturday demanded the Centre to take immediate steps to ensure that oil companies rolled back the hike in fuel prices. AICC secretary Ch Vamshi Chand Reddy said the hikes were "insensitive" as many people had lost their incomes during the course of the lockdown. Meanwhile, police foiled CPI's Chalo Raj Bhavan march against the rise in fuel prices.