HYDERABAD: Since the formation of state in 2014, the Telangana government has implemented as many as 63 schemes and welfare initiatives. The TRS government, which came to power a second time in December 2018, claims that it has spent as much as Rs 40,000 crore in welfare schemes such as monthly pensions (Asara scheme), farmer welfare schemes among others. The government claims that its spend on welfare schemes is highest in the country.
With Hyderabad housing nearly 25% of the state's population, the government has focussed its efforts towards creation of infrastructure facilities and has taken up projects such as the Strategic Road Development Plan (SRDP) through which it seeks to improve connectivity in and around Greater Hyderabad by constructing more flyovers and junctions. The Greater Hyderabad region alone has seen development projects worth nearly Rs 30,000 crore taken up. The government has announced that it will be spending another Rs 50,000 crore on improving infrastructure in urban areas.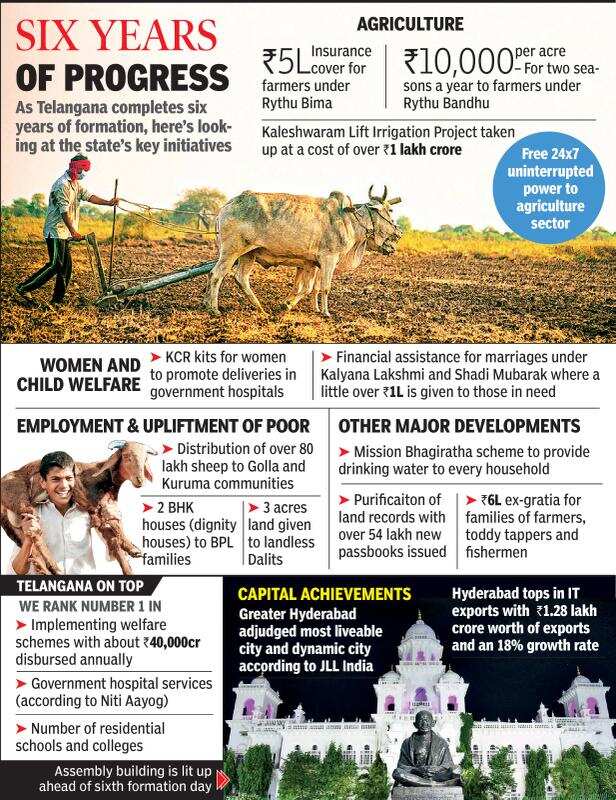 The goverment believes that it was the welfare schemes that helped it win successive elections with the party winning more seats in the assembly elections of 2018. It followed this success with dominant displays in local body polls — panchayats and municipals, cooperatives and Zilla Parishads.