Written by
Maulshree Seth
| Lucknow |

Updated: September 27, 2015 11:33:49 am
On the 500-metre footpath, along a road that leads to the Governor House and Chief Minister's residence, there are five others like him, sitting in a row on old bedsheets, about 2 metres apart, their typewriters placed on small stools. (Source: Express photo by Vishal Srivastav)
Krishna Kumar, typist, GPO ke saamne wale footpath se bol raha hoon. Batayen, kya kaam hai?" Kumar and his typewriter hit social media fame last week when a policeman broke his machine during an anti-encroachment drive. Kumar has since returned to the spot where he has been sitting for 34 years, with Rs 2 lakh aid, a Remington typewriter and two security personnel, deployed since Kumar got a "threatening call". A police vehicle now brings him to work every day and drops him home.
READ: After social media outrage, Lucknow cop suspended for breaking elderly man's typewriter
Everything else, as Kumar's terse introduction of himself over the phone shows, remains the same.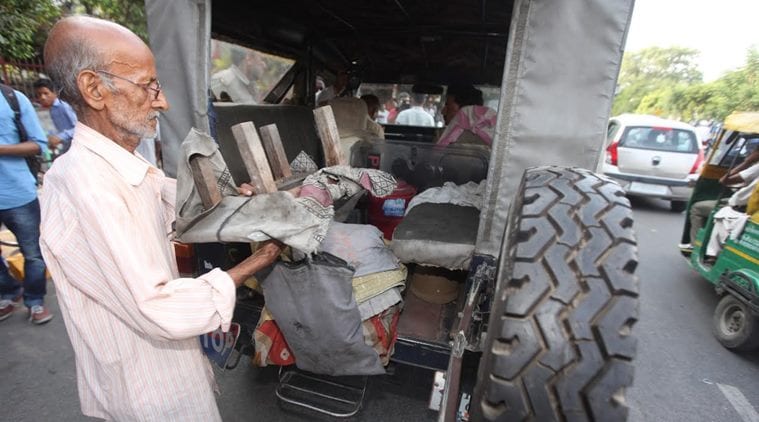 Typist Krishna Kumar going back home under police security after he recieved threat call from unknown caller a day after the incident. (Source: Express photo by Vishal Srivastav)
On the 500-metre footpath, along a road that leads to the Governor House and Chief Minister's residence, there are five others like him, sitting in a row on old bedsheets, about 2 metres apart, their typewriters placed on small stools. The machines may be on their last legs but not typists like Kumar, who remain, for many, guiding lights through the bureaucratic maze.
Kumar is at his spot, under a tree, from 7 am to 5 pm, earning Rs 150-170 daily, the equivalent of what a computer typist makes on an average. However, Kumar, who studied only up to Class X, points out, "Even today, a computer typist cannot write applications for a poor or illiterate person coming to meet the CM, officers or the DGP, in a way we can." His fellow typists nod in agreement.
Around 11 am, a youth arrives on a scooter, carrying a stack of clothes on the pillion. Looking around to make sure there is no traffic policeman present, so that he can leave his two-wheeler there, he approaches Ram Swaroop Verma, who sits next to Kumar.
Verma, 53, has a bachelor's degree in economics. But he has been working as a typist for 25 years. "What is your problem?" Verma asks the youth, who identifies himself as Prithvi Kanaujia, 23. Kanaujia irons clothes at OCR Building, where ministers and officers stay.
"My brother has grabbed my land and I have to give an application to sahab," Kanaujia says. He does not know the name of the "sahab" but shares that he is one of those officers whose clothes he irons, who has promised to help him.
Kanaujia looks on as Verma loops the paper into his grey-and-black Remington, now more than 20 years old. "Here I have to just tell my problem and they type out the application and even suggest whom to address it to. A computer typist will ask you to first write a draft application, or they charge extra," Kanaujia says.
Noting that Verma has started the letter, he interrupts, "Do mention that even local police is not helping." Verma shoots down the idea, "Ultimately you need the help of local policemen. If you name them in your complaint, why will they help you?"
In four minutes, Verma is done, and asks Kanaujia for Rs 20 for two copies, also telling him where to write the officer's name and where to sign his own name.
Meanwhile, two youth have approached Kumar. He had typed out their job applications earlier, and now they have come to him to draft an RTI plea. They want to know whether their two-year diploma from Lucknow University carries the same weight as a three-year programme. Kumar doesn't need any more details. "I have prepared affidavits of politicians, bio-data of students and professionals, as well as transfer applications of policemen and PILs of lawyers," he says.
In all these years, Kumar adds, his typewriter has been seized at least four times in anti-encroachment drives. It is his clients who helped him get it back, he says.
However, what happened on September 19, when a policeman smashed Kumar's typewriter for refusing to move, was unprecedented.
The footpath they sit on, opposite the General Post Office, is in one of the highest security zones of the state. Apart from the Governor House and the CM's residence, ministers' offices, the DGP's office and Secretariat are located within a 5-km radius.
When Inspector Pradeep Kumar (since suspended) broke his machine, it wasn't just the loss of earnings that worried Kumar. Like their counterparts across the world, the typists here are working on the last of the typewriters. It has been four years since what was considered the world's only remaining unit manufacturing "official typewriters (which are heavy and stationary)" shut down in Maharashtra. Only a few firms continue to manufacture portable typewriters, and none in India. The GPO typists say it is impossible to find a new typewriter now, and the cost of the parts is prohibitive.
After the photograph of Kumar pleading with the inspector to not break his typewriter surfaced, orders came from the CM's office to find the 65-year-old a new one. Lucknow District Magistrate Raj Shekhar says he first contacted Remington online, and was told to contact their local reseller as they had stopped manufacturing the machines. The traders' union also told him to do the same. Given the pressure to provide Kumar a typewriter as soon as possible, the administration, which didn't know whether he typed in Hindi or English, procured both. Later, it returned the English one.
Incidentally, among the small businesses that have sprung up on the footpath thanks to the typists is "a roaming mechanic", who claims to have spare parts of old typewriters. "My father too was a typewriter mechanic," says Mohd Ishar, who is in his early 50s.
Since the incident, Kumar claims, he has been getting calls as well as "donations" into an account whose number was put up on the Net by someone. "I am waiting for Monday to see how much money has come," he says.
Kumar has had a steady string of customers today, and gets up to take a tea break only around 2.30 pm. Pointing out that "this is all I know", he says that it was in 1981 that his father, a shop munim, bought him a typewriter for Rs 500. At the time, there were 27 of them on the footpath. "Still, there was always a line of 10-15 people before each of us."
Kumar and the others started out charging 25 paise for two copies of a document. While that has gone up to Rs 20 now, there has been not much change in his overall earnings, Kumar says, as the number of customers has fallen drastically.
The typists say the first blow came in the late '90s when photocopy machines became ubiquitous. Instead of seeking a third or fourth copy of their application, people would just get them photocopied.
By 2.45 pm, Kumar is back at his typewriter. A 22-year-old B.Tech student approaches the typists. However, he only has a query for Verma: "Janata darbar kis din hota hai?" he asks. Verma tells him it is on Wednesday. The youth then wants to know if he can meet minister Shivpal Singh Yadav or CM at the darbar. "There is no guarantee, but there will be a minister or officer who can take your application," Verma explains.
"Many in my village have not got crop compensation and the pradhan asked me to give a complaint at the janata darbar," the youth explains. "I knew you could help." Verma is pleased, "This is why even in today's computer age, people come to us."
Around 5.30 pm, Kumar starts picking up his things. He places a plastic cover over the typewriter, wraps it with a cloth and loads it on his bicycle. He will leave it for the night at the house of a friend in nearby PWD Colony. Kumar himself lives in an EWS house near Patrakar Puram, about 7 km away, with his wife and son.
As policemen pass by, running along to the Secretariat or other government offices nearby, Kumar says, "Why should I leave this footpath? At 65, I am not going to do anything else and I am proud of what I do."
Just as Kumar is leaving, a young constable shakes his hand. Kumar allows himself a slight smile, "I had typed some applications for him."
📣 The Indian Express is now on Telegram. Click here to join our channel (@indianexpress) and stay updated with the latest headlines
For all the latest India News, download Indian Express App.