Written by
Santosh Singh
| Kathmandu |

Published: April 27, 2015 4:51:32 pm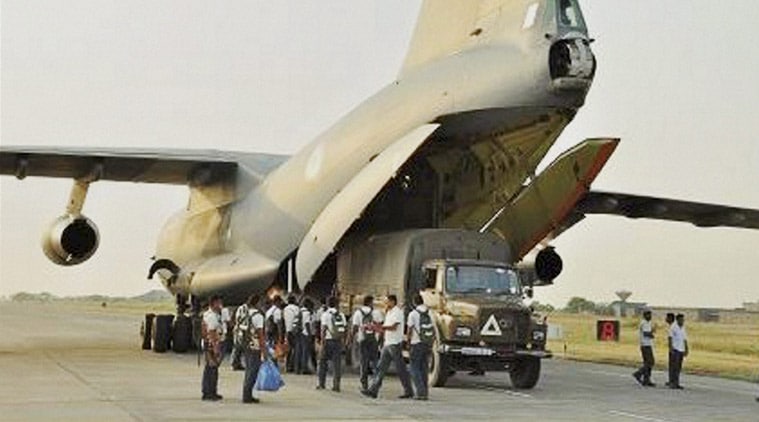 IAF's aircraft getting loaded before its take off from Bhatinda, Punjab on Sunday for Kathmandu, Nepal. (Source: PTI Photo)
Marium (27) hit her head against a wall during Saturday's earthquake. She has now taken shelter in Tudikhel park with hundreds of displaced families. Her family is one of the over 200 families of goldsmiths from West Bengal living in tents on the open ground. She has kept her bags packed, and wants to go back to West Bengal as soon as she can find transport.
Marium's family is from Midnapore. It is estimated that over 20,000 goldsmiths from West Bengal — mostly belonging to Midnapore — work in Kathmandu. Most families have been here for years, returning to India once or twice every year. "When we go home this time, we would like to return only after normalcy returns," Marium, said, sitting amidst her trolley bags along with relatives outside a tent.
Bhatu Bora from Howrah said New Road and Vishal Bazar, Kathmandu's hub of jewellery shops and showrooms, have been long attracted youths from West Bengal, who have learnt the "golden art" from their forefathers. Bora said: "A rookie goldsmith can start at Rs 10,000 here, and go on to earn Rs 40,000 once he becomes a veteran."
Radhanath Samanta and Sanjay Baguli, also from Midnapore, said their immediate priority was to get peace of mind and recuperate psychologically. Shops are closed anyway. Baguli said: "I am thinking of an alternative profession now. The quake has shaken me. Besides, there has been saturation in goldsmith jobs in the Kathmandu market. I want to work somewhere closer to home."
Ruby from Howrah said yoga guru Ramdev's camp, which was ongoing at the grounds when the quake struck, has been providing survivors and the homeless with food. "A Baba Ramdev yoga camp had already been going there. It is the yoga guru's people who are feeding us. We are desperate for flight tickets. But fresh tremors last night have made things worse. There are no flights now. Very few buses are going towards India," Ruby said.
Hemant Rana, a first-generation goldsmith, also from Midnapore, said though he had been attached to Kathmandu, and grateful for the daily bread it brought him, he wanted to go back home. "I just want the comfort of family and friends," said Rana.
Prasenjit, another goldsmith, said he had not been able to get through to his family back home.
📣 The Indian Express is now on Telegram. Click here to join our channel (@indianexpress) and stay updated with the latest headlines
For all the latest India News, download Indian Express App.