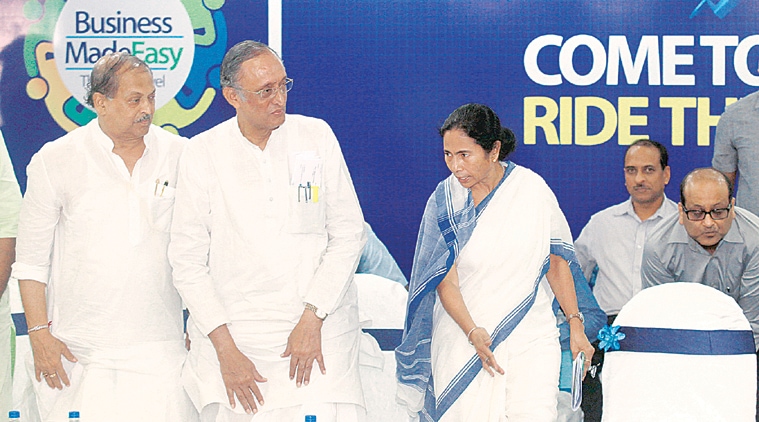 From left to right: Minister Subrata Mukherjee, Amit mitra and West Bengal CM Mamata Banerjee at Town Hall Kolkata during a meeting with Industrialist on Monday in Kolkata. (Express photo by Partha Paul)
Addressing representatives of several business chambers and industrialists, Chief Minister Mamata Banerjee on Monday said that her government has been striving hard to make procedures "speedy, simpler and transparent" to attract more investment in the state in sectors ranging from heavy industries to micro, small and medium-scale enterprises.
"Previously, visiting several departments and obtaining many clearances used to be a cumbersome process. After holding discussions for three months, we took steps and in the last one month, at least 38 single-window clearance system were launched," Mamata, who was speaking at the seminar, "Business Made Easy: The Next Level," said, even as she outlined the initiatives taken by her government to facilitate faster business growth.
The chief minister, while maintaining that "big industries are important" remarked that "small is always beautiful", and went about assuring the small enterprises that there would not be any harassment by the police if shops and other establishments were kept open for longer hours. She said this while pointing out how the "labour laws have already been tweaked" to facilitate their (shops') longer
operation.
"From the beginning, we are giving special attention to the small and medium sector. We have held seminars and discussions in various parts of the state with the small industry entrepreneurs. Affidavits and attestation by gazetted officers have been replaced by self-declaration and self-attestation with necessary amendments in labour laws. Getting trade license, environmental clearance, fire clearance, building plan clearance, power connection, land mutation and conversion and various other matters used to be time-consuming. Now, they have been simplified and focus is on delivering these services in a time-bound manner. We have also laid down a deadline to provide various services to businessmen and entrepreneurs," Mamata said.
She added that newer policies, incentives and subsidies from the government at certain priority areas would help businesses grow faster.
The CM's comments assume significance in the wake of the ongoing political debate over the land acquisition laws and the large industries' demand that state government should help them in acquiring huge tracts for their industries.
The CM also said that her government was against bandhs and strikes.
"There are some political elements who for no reason call strikes at the drop of a hat. We are not like them," she said. Mamata also added that already they have received business proposals from Bangladesh and Bhutan to carry out business in a PPP model.
At the seminar, a report titled 'Doing Business in West Bengal: Faster Procedures, More Transparency' was also released. The report details initiatives of various departments such as finance, municipal affairs, urban development, panchayat and rural development, land and land reforms, labour, among others.
The report further points out how paperwork has been truncated and stress has been put on timely delivery of services.
Also present at the seminar were Panchayat Minister Subrata Mukherjee, Finance Minister Amit Mitra and Urban Development Minister Firhad Hakim.
Mamata asked Mitra to set up core committees in the districts which would discuss the issues faced by the entrepreneurs relating to various clearances required in setting up units.
She also made all the respective departmental secretaries assure business leaders present there to commit to the cause which the government was ushering in.
In detailing her achievements, Mamata also said that a whole range of tax administration has been made available online and single-window system has been set up at Shilpa Sathi at WBIDC for large industries while MSMEs get the same facility through MSME Facilitation Centres at the districts.
When the panchayat minister took to dais, he likened the current situation to "a new dawn for industries in Bengal".
Mitra, on the other hand, said that the information technology has been used to "eliminate corrupt practices", clearance have been made time-bound, departments integrated and ministers as well as civil service officers made more accountable. All this, he said, was done for the betterment of the industrial sector in the state.
Sumit Mazumder, president, Confederation of Indian Industry, said that in order to improve the overall ranking of the country in the ease of doing business index, the state governments along with the central government have to come forward.
He said he was "happy to see West Bengal has taken a lead by announcing several initiatives, many of which have been path-breaking".
Sanjay Budhia, managing director, Patton Group, lauded the CM's initiatives. "Time-bound deadlines for different approvals will ease doing business and fast track manufacturing and industrialisation. Interface with industry infuses tremendous energy and enthusiasm," he said.
📣 The Indian Express is now on Telegram. Click here to join our channel (@indianexpress) and stay updated with the latest headlines
For all the latest India News, download Indian Express App.