Written by
Manish Sahu
| Lucknow |

Updated: August 1, 2015 2:52:06 am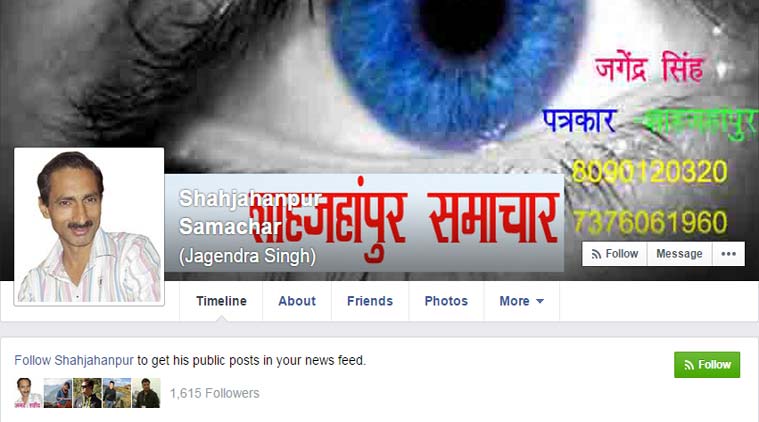 Screenshot of Jagendra Singh's Facebook page.
In a curious turn of events in freelance journalist Jagendra Singh's murder case, his sons have given a clean chit to state minister Rammurti Singh Verma and endorsed the police theory that their father had immolated himself at his Shahjahanpur residence on June 1.
In an affidavit filed in a Shahjahanpur court on July 21, Singh's son Rajvendra — who is also the complainant — has claimed that before he died in the hospital, his father had told his mother that he kept petrol in his house to threaten the policemen, as they were after him. Singh allegedly also told his wife he never thought his mistake would lead to such a major incident.
No policemen or anyone else had any role in setting Singh on fire, Rajvendra has stated in the affidavit. Earlier, Rajvendra had alleged in his complaint with the police that Singh was set on fire by the minister and policemen because he was regularly posting stories on Facebook regarding Verma's "criminal activities".
When contacted, Rajvendra said he came to know about his father's remarks from his mother only a few days ago, as she was in a state of shock earlier.
His younger brother, Pushpendra Singh, alias Rahul, too said that Rammurti Singh Verma was falsely implicated in Singh's murder case by his political rivals.
📣 The Indian Express is now on Telegram. Click here to join our channel (@indianexpress) and stay updated with the latest headlines
For all the latest India News, download Indian Express App.