Written by
Arshad Ali
| Burdwan |

Updated: July 15, 2015 7:29:51 pm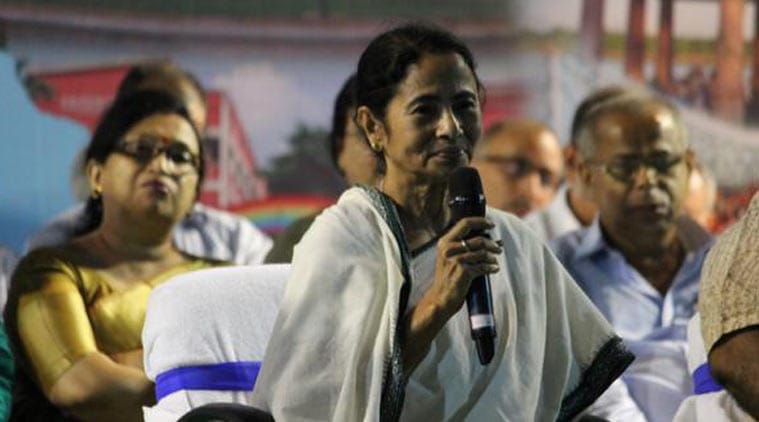 West bengal CM Mamata Banerjee at the 100th administrative meeting in Burdwan (Souce: Twitter/AITC)
Chief Minister Mamata Banerjee's 100th administrative meeting kicked off in style. With five Royal Cruiser Volvo buses carrying bureaucrats, heads of academic institutions and chairmen of banks, the distance of 104 km from Kolkata to Burdwan was covered in 1 hour 20 minutes, against the normal transit time which is about two hours.
Pilot cars ensured that the entire stretch was free of any traffic logjam and all the vehicles sped at an average speed of 80 kmph. The road from Kolkata to Burdwan was dotted with constables posted on both sides of the road while huge gates and hoardings had been put up welcoming guests.
Once aboard the buses, guests were given a box of delicacies, along with butter milk. At about mid-day, buses reached Burdwan Sanskriti Lok Mancha auditorium where the administrative meeting was supposed to be conducted. There, no effort had been spared to satisfy the gastronomically adventurous guests, menu included Hilsa, Pabda and jumbo prawns, fish fries and Burdwan's famous mihidana and sitabhog was served in dessert.
Mamata would chair an administrative meeting at Sanskriti Lok Mancha auditorium and would be the main speaker at the public rally at the Police Lines.
The administration has booked almost all the hotels in the city to accommodate over 1000 policemen who had been deployed for security purposes. E-rickshaws or Totos had been kept off road with the city limits and roadside vendors have been asked not to sit with their wares for the day. Though there was considerable euphoria and excitement among the residents of the city, there were also some discordant notes here and there who questioned the use of holding a meeting at such a grand scale. "Of course we are happy that the meeting is being held here but the thing is, will it ensure our basic civic amenities which are lacking here," said Sabir Mondal, a tea stall owner.
Although leaders of all the Opposition parties had been invited at the meeting, none of them turned up at the event. CPIM leader Surjya Kanta Mishra said, "We have not been invited to the last 99 meetings what would we do in the 100th meet."
BJP MLA Samik Bhattacharya too said that he had received the invitation but added that he "would not like to be a part of it because when the meeting was held in Basirhat, my constituency, I was not invited there."
📣 The Indian Express is now on Telegram. Click here to join our channel (@indianexpress) and stay updated with the latest headlines
For all the latest India News, download Indian Express App.