Written by
Arshad Ali
| Kolkata |

Updated: April 25, 2015 6:08:25 pm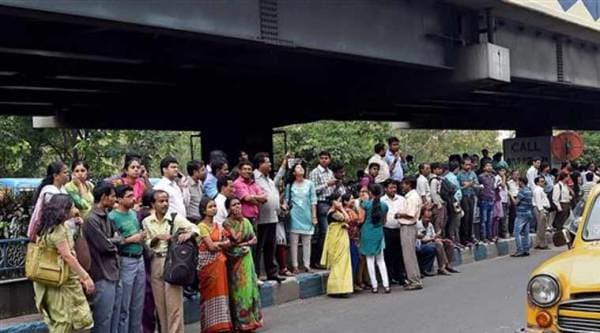 Employees of a highrise building come out after an earthquake in Kolkata on Saturday. (Source: PTI)
The second phase of civic polls at 90 municipalities and one municipal corporation which had begun today with incidents of sporadic violence across the state, was caught in a state of panic for sometime when earthquake was felt across the state around 11.45 am.
In Jalpaiguri, electors and poll officers at almost all the polling stations of Jalpaiguri and Malbazar Municipality were out in the open. District Magistrate Preetha Sarkar confirmed that there had been a death of a daily wage earner but no major disruption in poll process was reporter. "One Manglu Roy was injured as a wall fell on him, at Raigunj block. He was declared brought dead when taken to North Bengal Medical College. There was naturally panic among people, voters and officers alike but since most of the polling stations were on the ground floor, it was taken care of within 10 minutes.
People who had queued up for casting their votes had dispersed. "I have myself had left for home as I got worried about my family members back home. I rushed back as fast as I could," said Anik Lodh, a local resident under Malbazar municipality who had gone to cast his vote.
In Siliguri, district magistrate Puneet Yadav said, "A polling premise at ward 38 collapsed, disrupting poll process for sometime. But it had resumed soon after," he said. A senior polling official said officials at most of the booths, out of the 404 booths in the district, had come out of the polling stations.
Prosenjit Chatterjee, presiding officer at booth number 33 of ward 14 of Kaliagunj Municipality of North Dinajpore said that he was in two minds. "All of a sudden it started shaking. My initial instinct was to run out in the open but I could not leave the polling station unguarded. So I stood at the door where from I can keep an eye on the electronic voting machine (EVM) and if situation gets out of hand, can run out to safety," he said.
📣 The Indian Express is now on Telegram. Click here to join our channel (@indianexpress) and stay updated with the latest headlines
For all the latest India News, download Indian Express App.