HYDERABAD: As temples, mosques, churches and other places of worship are scheduled to reopen from June 8, the World Health Organisation (WHO) has called for several measures to prevent the spread of the novel coronavirus.
Apart from wearing masks and maintaining social distancing, WHO guidelines also suggest keeping a personal record of the devotees for easy contact tracing in case of Covid-19 outbreak from a place of worship.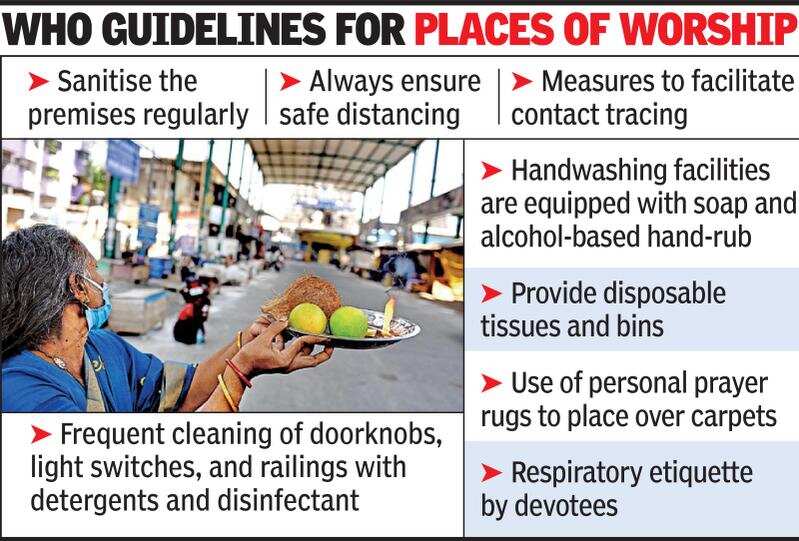 While Muslim religious leaders have called upon the community members to bring their own prayer mats and not use the Quran kept in mosques, Hindu religious leaders are taking steps to minimise human contact during the darshan by suspending distribution of prasadam and teertham (holy water).
Chikur Balaji temple, however, will not reopen on June 8. Chief priest CS Rangarajan told TOI that the threat of the pandemic is not still over and it is not the right time to open religious places for public worship.
As the transmission of Covid-19 is linked to close contact and respiratory droplets, the WHO guidelines suggest that people who are sick, suffer from chronic ailments related to heart, lungs or kidneys, or have symptoms of Covid-19 should stay away. People above 60 years and children below 10 years should also not visit places of worship where people gather in large numbers.
Islamic scholars have appealed to the managements of mosques to keep open the places of worship only for a limited period during the five congregational prayers and shorten the prayers to limit potential exposure. Smaller services with limited number of devotees should be encouraged.
MIM president and Hyderabad MP Asaduddin Owaisi has appealed to religious scholars of all schools of thought to issue local guidelines to prevent spread of the pandemic. His suggestions include request to the elderly to stay away till at least June-end, remove carpets in mosques, close toilets and ablution points and maintain social distancing.
Rangarajan said temple managements should ensure social distancing during darshan and take precaution on distribution of prasadam and teertham. "The flow and number of devotees should be regulated. Proper handwashing should be ensured and devotees should sanitise themselves while entering the places of worship," he added.