Written by
Maulshree Seth
| Alka Pande & Ravish Tiwarilucknow/new Delhi, Lucknow |

Updated: July 14, 2016 6:17:40 pm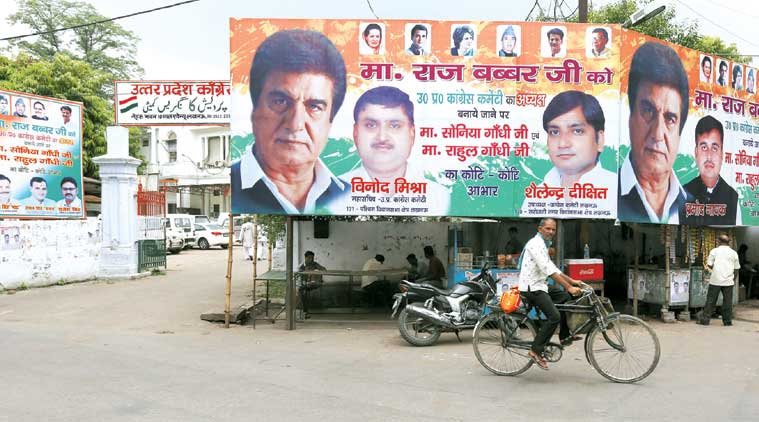 What helped Babbar's case, sources in the party said, was the party's decision to go for a "popular public face" rather than focussing on caste or insisting on someone from the cadre.
On Tuesday, the Congress sprung a surprise by naming actor-turned-politician Raj Babbar as its man to lead Uttar Pradesh, a state which is headed for elections in 2017. What helped Babbar's case, sources in the party said, was the party's decision to go for a "popular public face" rather than focussing on caste or insisting on someone from the cadre.
They said that despite objections from several quarters and the fact that Babbar's name didn't figure in the list of probable presidents of the Uttar Pradesh Congress Committee, the party stuck to Babbar, who is largely "uncontroversial", not associated with any particular caste group in the state, is vocal and, above all, can "take on the ruling Samajwadi Party" from which he parted ways in 2006.
WATCH VIDEO: Congress Names Sheila Dikshit As UP CM Candidate
Babbar's appointment, the sources said, has served two other purposes. One, it has sent out the message that Kishor cannot take "organisational decisions". It was a message, they said, the party wanted to send out after Madhusudhan Mistry was removed as AICC general secretary in charge of the state, a decision that was ostensibly influenced by Kishor's displeasure of Mistry's 'working style'. By appointing Babbar, a Rajya Sabha MP from Uttarakhand, the party also hopes to ease the pressure that is building on Priyanka Gandhi as someone who may well end up as the face of the party's campaign in UP.
A senior leader said, "The party is well aware of the fact that (Babbar) is not a person of the cadre and with elections just a few months away, the party does not expect him to do wonders in cadre building."
Watch Video: What's making news
https://www.youtube.com/watch?v=videoseries
The party, however, hopes to use his "popularity, even in the remotest corners of the state" and get him to travel across UP, a state where it has been out of power for 27 years. That was something the party could not achieve through former state president Nirmal Khatri, who was purely a "man of the cadre" but less of a public face and who rarely travelled out of the state capital.
Babbar belongs to the Sunar (goldsmith) community, which is listed as OBC in western Uttar Pradesh. He is from Agra, from where he has been Lok Sabha member twice — 1999 and 2004 — both times as SP candidate. In 1996, he unsuccessfully contested against former prime minister Atal Bihari Vajpayee from Lucknow. Ten years later, in 2006, he parted ways with the Samajwadi Party over differences with Amar Singh. In 2009, a year after he joined the Congress, he was handpicked by Congress vice-president Rahul Gandhi to contest the Firozabad by-election against Dimple Yadav. That was an election in which Rahul broke the practice of not campaigning for by-elections and addressed a rally for Babbar. Babbar won that election by 85,000 votes, giving him his third stint in Parliament. It is this win that the Congress and Babbar would want to remember, not the massive defeat he suffered at the hands of BJP candidate V K Singh, when he fought the 2014 elections from Ghaziabad.
"While many know Raj Babbar as an actor-turned-politician not many know that he is a product of student politics. He was president of Agra College's students' union," said UPCC spokesperson Surendra Rajput.
For UP, the party also chose to break its set tradition of getting leaders from other states to head the screening committee for selection of candidates. Thus, Khatri, as someone who is well aware of the strengths and weaknesses of the cadre across the state, was named head of the screening committee.
Party sources insist the decision to announce four "senior vice-presidents" at the same time was also part of a well-thought-out strategy. All of them, except Imran Masood, are not mass leaders but are strong cadre leaders. Thus, while Babbar would be expected to travel across the state during the elections, the senior vice-presidents are expected to largely take care of crowd management in four different parts of the state — west, central, east and Bundelkhand region.
📣 The Indian Express is now on Telegram. Click here to join our channel (@indianexpress) and stay updated with the latest headlines
For all the latest India News, download Indian Express App.