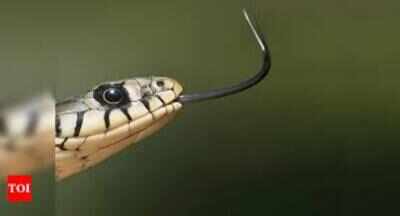 CHENNAI: Kalinga Centre for Rainforest Ecology, a premier institute in the country which studies on the behavioural patterns of King Cobra, will conduct a livestream event called "Wild-Sync" on the World Snake Day on July 16 with experts from five continents.
The one-day free event will help people broaden their understanding about snakes and snakebites.
Experts like Mahmood Sasa Marín (University of Costa Rica), Bryan Grieg Fry, (University of Queensland), Wolfgang Wüster (Bangor University, UK), Colin Strine, (SCSET), and Johan Marais (African Snakebite Institute) will talk about how snakes and snakebite issues are handled in their continents.
The topics include "fighting the snakebite in the neotropical region: Costa Rica as a case study," "Endless forms most deadly: the dynamic diversification of snake venom and how this influence clinical outcomes," "Venom at the interface between snake and environment," "Snake ecology and human conflict-king cobras (Ophiophagus hannah) in human landscapes of Sakaerat Biosphere Reserve, Thailand," and "snake diversity in Southern Africa – educating the masses on snake bite issues."
Watch free live stream on https://www.facebook.com/KaalingaCRE/ or https://www.youtube.com/c/kcrekalinga between 10am and 6pm on Thursday.